Concrete Pool Systems is a New Zealand, Auckland based company established in the inground concrete swimming pool industry and trusted quality pool builders since 1998.
Our team of expert swimming pool builders, are experienced in all aspects of concrete swimming pool design and construction and swimming pool restoration and refurbishment.
We provide you with expert advice you can trust and top quality service you can rely on, creating stunning custom-built, inground concrete swimming pools designed to suit your landscape, lifestyle and budget.
Concrete Pool Systems proudly stand by all their products and workmanship!
"In all the years we have been in this business and of the hundreds of pools we have built, we have never had an unsatisfied client or a pool that has ever had an issue".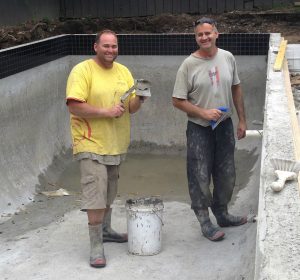 Todd Morgan and Scott Leslie have been working together in the in ground concrete swimming pool industry, as family members and business colleagues  for over 14 years. Todd as owner of Pool Systems Ltd since 1998 and Scott, owner of Concrete Techniques Ltd since 2000.
During this time they have collaborated on hundreds of concrete swimming pool projects, working together to produce some of Auckland's and Northland's finest pools.
Todd and Scott have now amalgamated, to provide you with their total package, expert advice and top quality service.
They offer a professional complete in-house service for constructing your custom built, in ground Concrete Swimming Pool, using only the best materials, techniques & equipment and construction methods as certified by engineers.  No Sub-Contractors are used or needed!
Todd Morgan – Managing Director
Todd Morgan has been in the swimming pool industry for over 28 years. He is experienced across all aspects of pool construction in NZ and has been hands on in this industry earning a reputation second to none, for his professionalism, exceptional craftsmanship and friendly approachable manner. He has personally plastered over 1,000 swimming pools, every one, to the highest possible standard.
His pools are beautifully designed to suit your landscape, lifestyle and budget. Todd will take your vision and create your dream pool, working with you through the design & planning process, and every step of the way until you have your very own piece of paradise that you will enjoy and treasure for years to come.
Scott Leslie – Managing Director
Scott Leslie has been in the pool industry for over 14 years since first leaving school. He founded Concrete Techniques within a couple of years and was immediately a very strong competitor in the Swimming Pool & Shotcrete industry.
Scott's professional, reliable & friendly approach have built up a very successful business. He is a perfectionist and demands only the best from his team. Personally overseeing every job on-site, Scott manages his team to produce top class results on-time and every time!
He has sprayed over 800 pools, as well as many other spray concrete projects including waterfall features, skateboard bowls and retaining walls, but swimming pools have always been his Passion & Specialty. His expertise, extensive knowledge and creativeness in this field are reflected in the pools he has built, as all his customers would attest to.