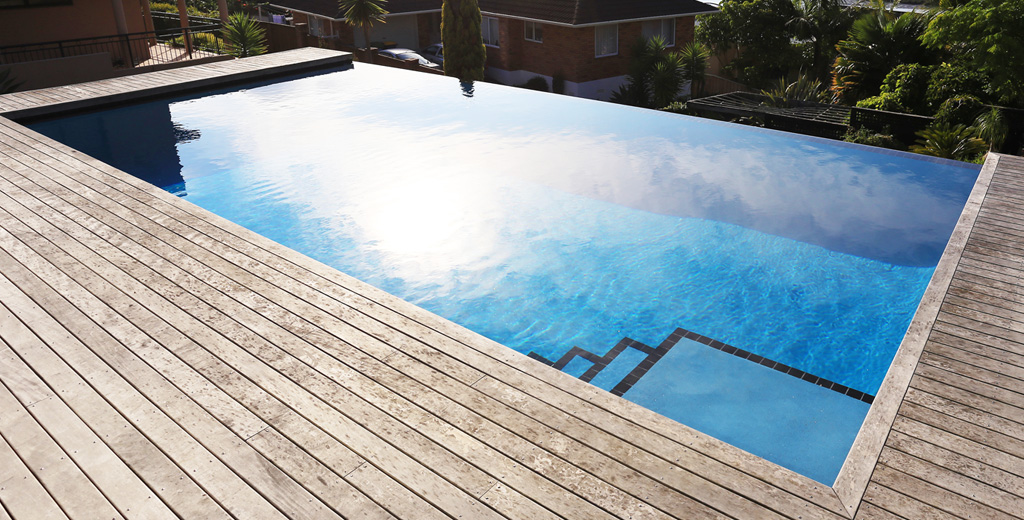 Waiheke Pool
The architect originally had the pool designed in the lower backyard. I suggested that we build the pool off the main deck at house level and create a weir feature to showcase the impressive view of Auckland. This design did create additional challenges for us.  To acheive this we needed to build the pool completely out of the ground. We had it designed and engineered to achieve this. We built a footing 600 x 400, around the perimeter of the pool, placing 3 piers at the deep end of the pool and building a full block surrounding the perimeter. The pool was constructed on top of this.
We used "Pacific Star"  Quarzton which comprises a black fleck, complemented by the black mosaic tiles around the water band also working  with the silvering colour of the deck.
---
Concrete Pool Systems are concrete swimming pool builders based in Auckland, experts and experienced in all aspects of inground concrete swimming pool design & construction and concrete swimming pool restoration & refurbishment.